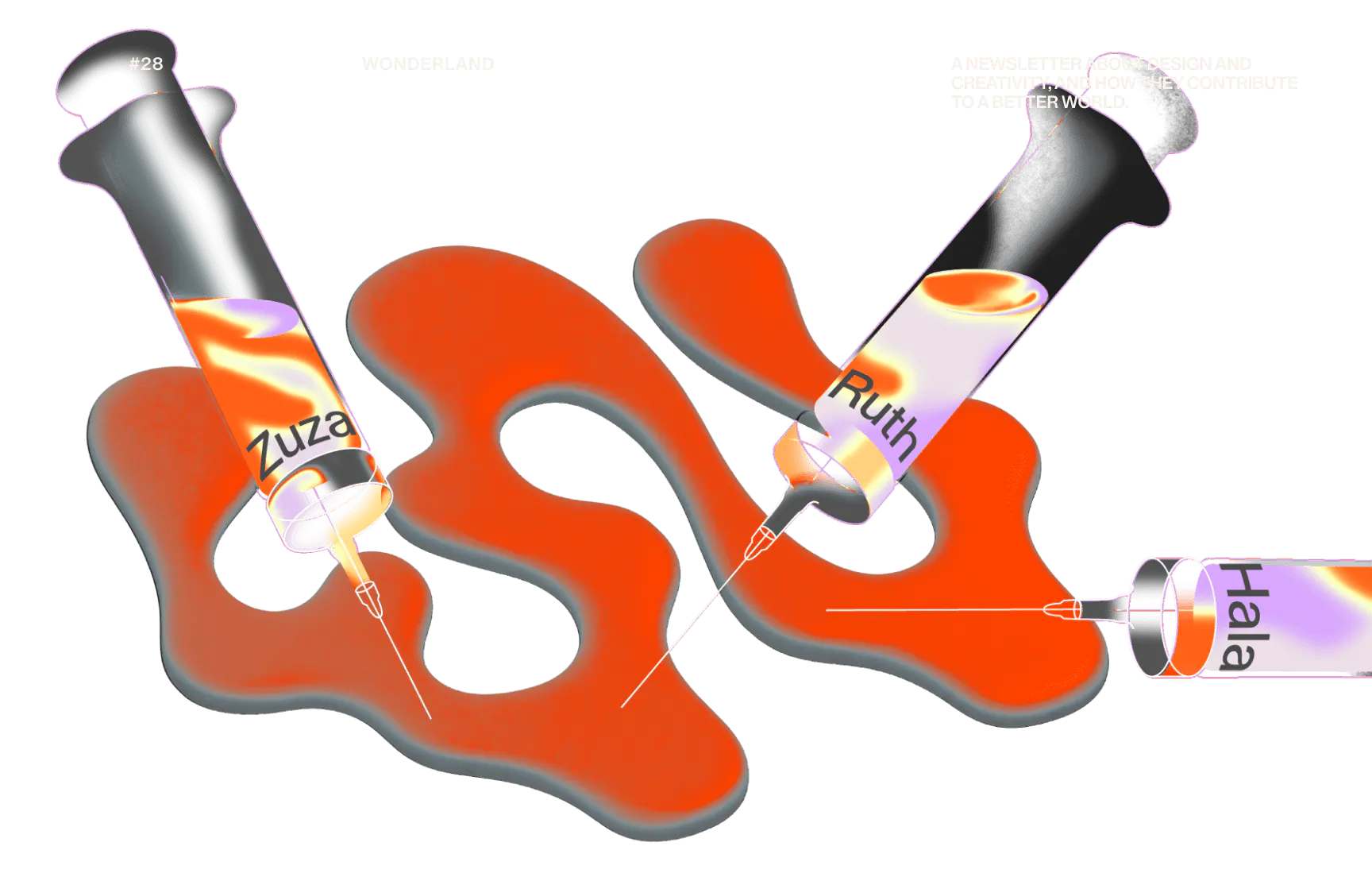 Hey Wonderland, who are your newest hires?
As we mentioned in our last ideas post, 2022 has been an evolutionary year for us, and along with the changes to our operation and processes, we've also grown the team, adding new people like Hala, Zuza, and Ruth to the team. We asked them to jot down a few paragraphs to share how the first three months have gone, and what the highlights have been since they joined the Wonderland team. 
HALA
The first three months with Wonderland have gone by in a flash and I'm happy to have landed in a team of creative, eager, and really cool people. The work environment is an important aspect of any job, and it is always far more productive and purposeful to work with people who are interested in what they do. The learning curve in my position as a Client Manager has been steadily inclining since I joined the team, and this has been a result of continuous team support, constructive feedback, and autonomy within my position.
I've been involved in several internal and client projects, which have given me a range of experiences in a short time. My client projects are giving me hands-on experience in managing the execution of an idea from zero to ten. I've been supported in this by a team of incredibly talented strategists, designers, and developers who are on the journey with me. This doesn't only empower my project management skills but has also shown me different aspects of thinking, design, brand, UX/UI, and development.
I've also thoroughly enjoyed gaining exposure to the diverse range of industries Wonderland works with.
Within the internal projects, I've been heavily involved in our Sustainable Digital Design platform, and have been tasked with the growth and expansion of SDD's community. This includes recruiting and interviewing various creatives about their work in sustainable design.
My three months at Wonderland have been rewarding and looking forward to seeing what the upcoming month hold for the team.
RUTH
Before I joined Wonderland I was working for an Irish advertising company. I've always worked in project and client management roles and I'm now in a senior position within the client management team at Wonderland. I really enjoy managing such highly skilled and creative people, while being in such a relaxed and collaborative, yet tenacious and ambitious, environment. Every day has the same reliability that maintains a nice familiarity but because there is such a range of people and projects, every day feels like a new and exciting journey. The ultimate way to work.
There is the option for everyone in the studio to contribute creatively to projects. There is no cap on what you can contribute and it's a hive of information. It's a very encouraging place to work and there is something special about working behind the scenes on some really great projects. When a project is finished and you take a step back, you realise the magic.
I love the flexibility of our working day. I love that we can WFH and work remotely. I really enjoy our team lunches, which usually consist of a couple of people using what's in the kitchen to create something delicious. I love that there is such a broad taste in music and that our office speaker is always bouncing on the desk with tunes. It's just a very relaxed atmosphere with a nice motivating undercurrent.
ZUZA
Not so long ago I was walking into the Wonderland kitchen/meeting room during a summer morning during the heatwave. Ruth was already there, all set and ready to go, and shortly after we were joined by Hala, who, in the middle of a classic Amsterdam-house-searching frenzy just came to the studio straight after yet another viewing. That's how the three of us started our first day as members of the Wonderland team.
For me, it began with the bliss of change. The first weeks were filled with excitement, curiosity and proper information overload. I was thrilled to switch from my previous role, which was in-house and focused solely on the company I worked for, to having a variety of clients to familiarise myself with, learn about, and create within. I've loved the adventure of discovering a client's identity and the challenges they want to solve, and then realising explorations and solutions through design.
Secondly, I was very curious to see the processes within Wonderland – how projects would be handled from A-Z. After all, every studio has its own processes and habits. At Wonderland, I was impressed from the moment I was handed a thorough and data-driven brand analysis by my colleagues in the Strategy team. Having that solid base from which to build from, I felt ready to jump in and begin designing, confident that my designs were aligned with the client and our goals.
Thirdly, there was the feeling of being overwhelmed, but in a good way. Within a short time, I've seen so much and learned more, and along the way, I've met a seemingly endless train of talented and creative people where everyone shines in their own areas of expertise. Being surrounded by that crowd was something new to me after my years in a tiny design team, which consisted sometimes of three designers, at other times just myself only. This new environment has given me a positive thrill, and I feel that this is a place where I can grow and learn, and be challenged, even though that meant stepping out from what used to be my comfort zone.
Now three months in, I am much more settled, but the initial excitement is still here.
Zuza, Ruth, and Hala have all been epic additions to our team, and have fit the team in like a bitterbal in mustard. If you think Amsterdam might be a good fit for you, either full-time or as a freelance partner, reach out to us at careers@wonderland.studio. If we see a fit, we'll get in touch!
INC 16-22
BRAND EXPERIENCE DESIGN