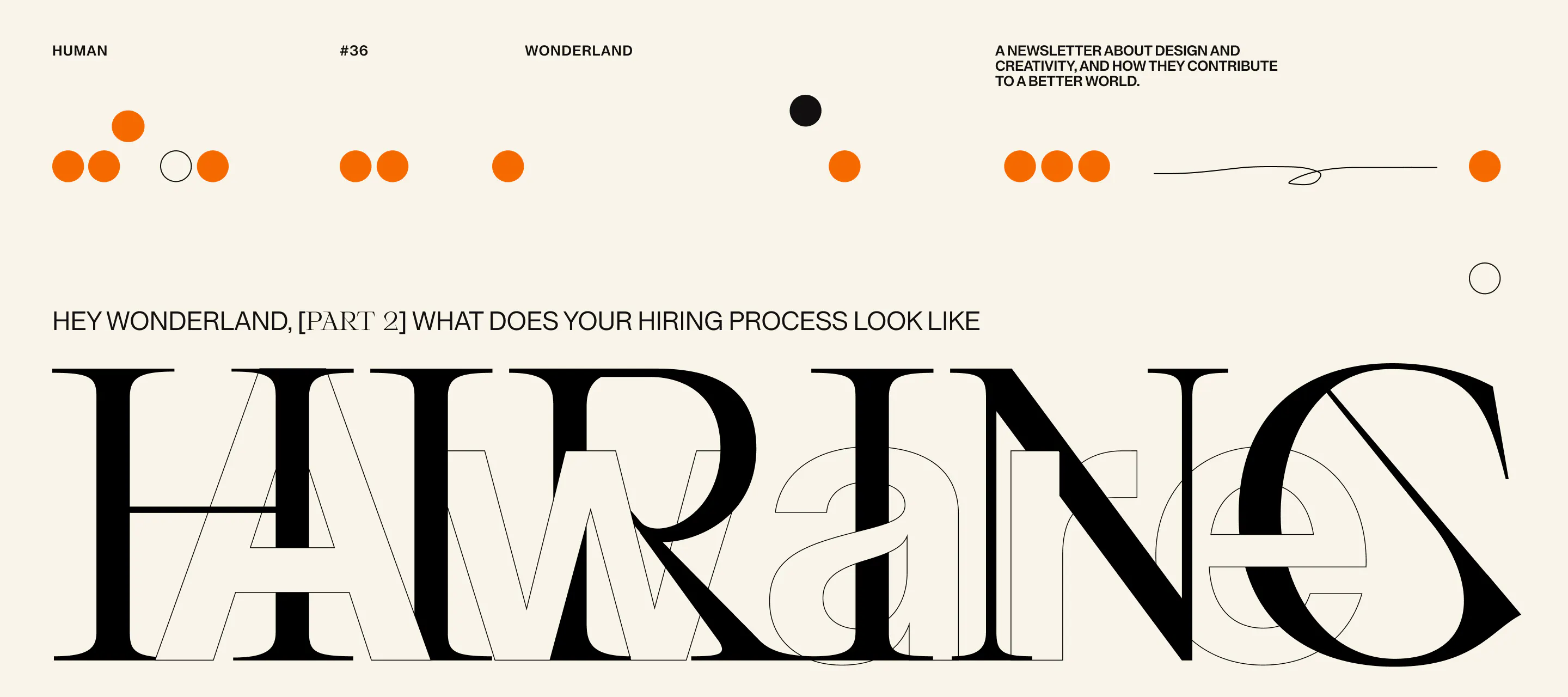 Hey Wonderland, what does your hiring process look like? [Part 2]
As part of our 'Hey Wonderland' series, we touched on our hiring process and the interview steps that potential new members of Wonderland work through as part of their journey from applicant to team member.
Having developed the process as a team, so to do we maintain it, viewing it as continuously evolving, rather than said and done. The reason for this, in part, is the fluid nature of Wonderland, and our growing and shifting range of demographics and world views. As our team evolves, so too does our hiring process, ensuring that the experience remains inclusive, well-rounded and equitable.
As part of our work towards becoming a B Corp, we've joined an active community of companies striving to do good which has given us access to and awareness of different trainings on the topic of hiring, all of which have provided inspiration for how we can continue the evolution of our own process. In line with these learnings, we wanted to update our earlier article and talk about the changes we've made as a result of our B Corp journey.
In our previous article, we acknowledged the 'casualness' of our approach to hiring which comes with its own pros and cons - the balance needs to be just right. So first up was an evaluation of the process as a whole, adding in steps we hadn't considered formalising before now.
1. Job creation
Of course, the creation of a job was always something that happened at Wonderland but we've now evolved this to be a meeting with a set agenda covering the below topics:
Role logistics - the business case for why the role is needed, defining hiring managers and team responsibilities, seniority of the role, and salary benchmarks. Alongside this, we've further prioritised factors such as the role deadline / start date, an unbias awareness and a DEI (Diveristy, Equity, and Inclusion) refresher for the hiring team.

Job description - What are the overarching responsibilities, skills and values, and desired experience level that we want to find in the ideal applicant, along with the application form setup

Interview approach and set-up - including the key questions we want to be answered, and a scorecard set-up to track applicants across.
Within this, we ensure that all of our questions are job centric, that we create diverse hiring teams and a welcoming environment, that we avoid asking questions that might make an applicant feel uncomfortable or insecure, and that we maintain neutral body language.
2. Applications
Before we ever share a job externally, our existing Wonderlanders are given the opportunity to apply. Our people are central to who we are, and we always want to ensure that they have the opportunity to grow and develop themselves if they feel they can fill a certain role. Only once it's been shared internally will we open it to external applicants.
3. Interviews
Our interview process has stayed more or less the same as we outlined previously, but with a few important additions that ensure we stay true to our DEI standards, such as adding scorecards for each interviewer to fill in after their interview. Moreover, conducting an interview can be difficult, so we've aided our teams with the creation of a tips-and-tricks list to help our interviewers do the best they can, both for themselves and the applicant. The document is meant to be used to both support our team throughout the interview process and improve their interviewing skills overall.
4. Selection process
Applicants are evaluated using a scorecard system we've set up. These scorecards consist of a pre-determined set of criteria such as values contribution, and soft and hard skills required for the role. Each hiring team member will individually fill in the interview scorecard for each candidate they interview. Once everyone has filled in their cards, the hiring team will then compare their scores to determine the most suitable candidate for the role, based on the resulting consensus.

The purpose of a scorecard is to question candidates on specific requirements that are essential to the job that they're being interviewed for and evaluate their responses, while also eliminating personal biases throughout the hiring process. Ultimately, the goal is to improve the process by making it more inclusive, equitable, and diverse.
5. Hiring/onboarding
Once a decision has been made, successful applicants are sent an offer of employment for them to sign and receive, as well as an official onboarding process that we will take them through during their first week as a member of Wonderland. Within this onboarding process, we take them through the general workflow and rhythm of Wonderland, as well as their equipment and immediate team. We also use this time to trade key information such as salary, responsibilities, and so on, as well as sharing a detailed onboarding plan, facilitating wider team introductions, and onboarding to their first project(s)
6. Resignation
All good things come to an end, and occasionally a Wonderlander chooses to hang up their hat and find a new adventure. While we're always sad to see them go, we support their future growth and actively put energy into their exit process as well to ensure it is smooth for us and the rest of the team, as well as for them. Aside from the obvious elements such as the agreed notice period, handover of projects, and return of company property, we also work through a formal exit interview. Within this, we dive into the highs and lows of their time with Wonderland, as well as any feedback or insights they want to share with us to improve the company even further, and also provide them with some final insights to keep in mind in their next role. As we've always said, our people come first and even when they leave, we want to make sure we help them where we can.
While our interviews remain friendly and casual, we've taken steps to formalise the wider process to make it smoother for both us and you. This ensures that each stage of your hiring journey remains inclusive and bias-free, and is representative of the wider Wonderland experience.
INC 16-22
BRAND EXPERIENCE DESIGN