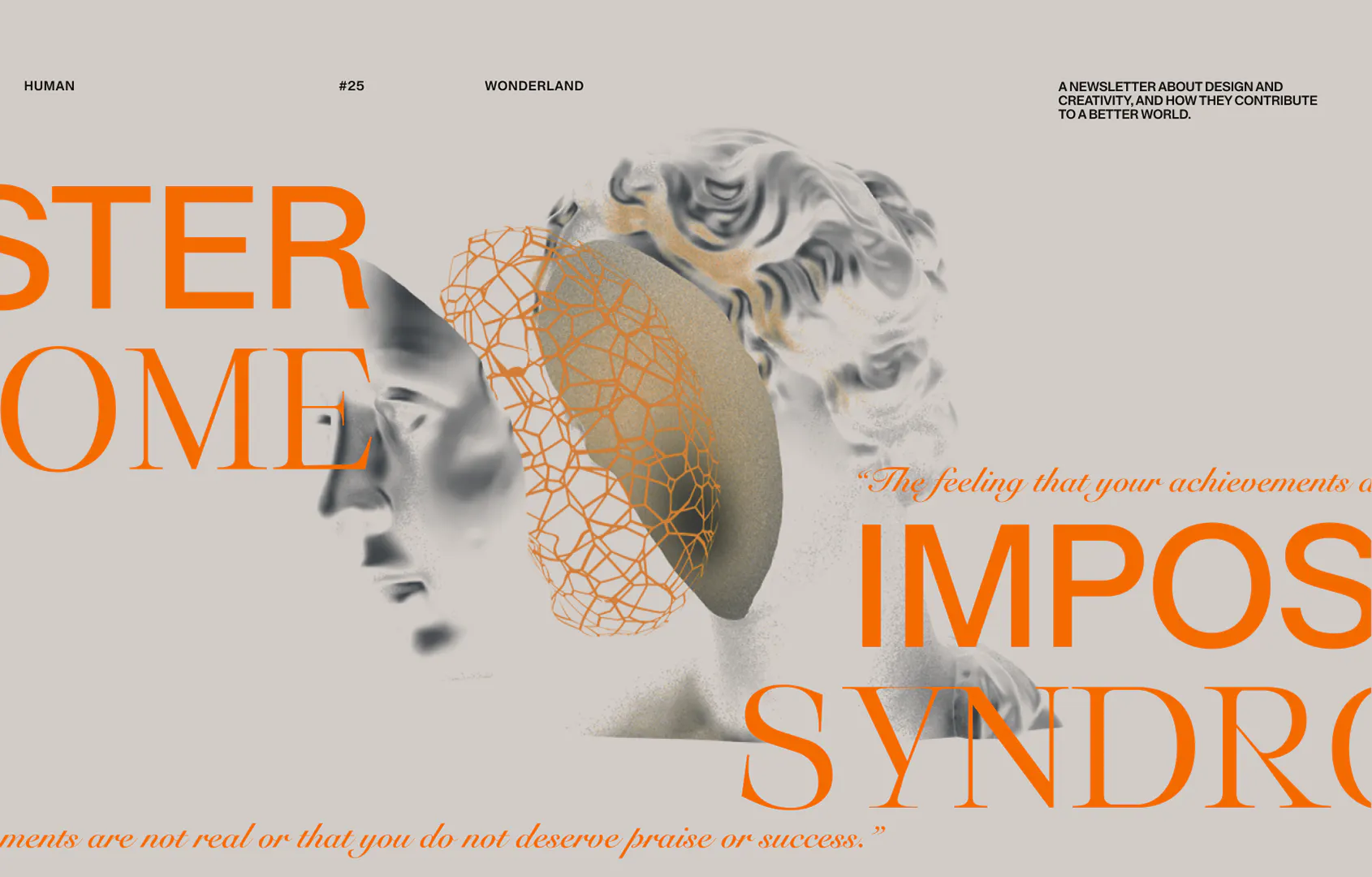 Hey Wonderland, how do you avoid imposter syndrome?
Senior Strategist and Business Developer
Ah imposter syndrome, the unavoidable ghoul that follows all creative pursuits wherever they may roam. From branding and copywriting to pottery and architecture, imposter syndrome follows them all, relentlessly following the creator from the first strokes to the final polish.
In fact, one study in the United Kingdom found that workers in the creative industries suffer most heavily, with 86.96% of respondents (n=3,000) indicating that they had experienced it at least once in a 12-month period.
As per Cambridge University's definition, Imposter syndrome is "the feeling that your achievements are not real or that you do not deserve praise or success." It's something that we're acutely aware of at Wonderland, especially amongst the juniors in our team, as we first and foremost want our people to be confident and comfortable at work, and able to experiment and explore as much as they can. That's why we hired them after all, to give them an opportunity to create and design with us, and to have fun along the way.
To try and quantify our approach to combatting imposter syndrome, and share our learnings along the way, we wanted to share a few of the things we do here at Wonderland, the first of them being our structured approach to creativity. We touched on this a few weeks back, sharing how we've been able to effectively unleash creativity by introducing parameters to the process. When it comes to pushing down imposter syndrome, structure can act like the guide-rails you would find when learning to bowl (ten-pin, not lawn), allowing a designer to have create and explore, but at the same time restricting the depth and breadth so they stay true to the end goal. In doing this, we ensure that the exploration stays within the confines of the specific assignment and remains targeted to the brief, while at the same time reducing risk when we unleash the designer.
To complement our structured approach, we also encourage our teams to 'have a go'. Branding rarely follows an instruction manual, and we push our teams to think with out constraint from the start and put forward any ideas that work, again, within the structure of the wider project. By doing this, we give every designer an equal seat at the table, regardless of whether they're a junior on the project or the team lead. Key in this process is a completely flat project structure that prioritises collaboration at the expense of hierarchy. As a result, our teams are completely integrated, sharing knowledge, techniques, and ideas in a seamless flow that builds confidence and trust, while removing secrecy and fear.
Finally, we focus on internal Fridays, giving our team the freedom to create and experiment without the pressures of external deadlines. By incorporating this into our weekly planning, our teams are freed up to explore new ideas and concepts that they might otherwise feel unready to try on project work. By allocating 20% of every week to Wonderland-specific projects, we're able to push new and unique creations for our own brand, while constantly up-skilling and developing our teams, bringing them closer together, and building their confidence along the way.
We can't unequivocally say that these approaches work 100% of the time. Imposter syndrome is very much a personal response to how you think your work is being received and perceived, but we do our best to encourage and support our teams, and to remove any doubts that can creep in along the way. If you've done something differently in your own studio, or as a freelancer, we'd love to connect and learn more about it.
INC 16-22
BRAND EXPERIENCE DESIGN